Did you just sing that last part? If not, do so now. I'll wait.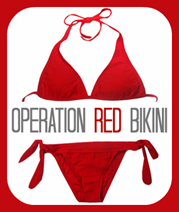 It's that time ya'll! I crawled out of my hole just in time!
Leigh Ann
and I are hosting the official ORB link up and will pick a winner on Tuesday. We actually decided to have one grand prize winner and two runners up, because..well, why pick just one?!
There are no rules. All you've got to do is share your experience on this weight loss journey. You can go way back to when you put on the weight, or just start from the official start of ORB back in December. Can't believe it's already "over". We've had over 2,000 #operationredbikini photos on
Instagram
in just a few short months. Go check em out and be amazed at all the determined ladies, their meals, their workouts, their sweat and even a few tears. I am so so proud of you all. Make sure to post lots of pictures. I looooove me some befores and afters…Durings too!
Now for the good stuff.
Leigh Ann
and I will choose one winner, RANDOMLY, to receive a huge Operation Red Bikini Prize pack. So if you didn't meet your goal just yet, you still count. You're still amazing. The point is that you tried. BEHOLD Operation Red Bikini swag:
Prize includes:
Jillian DVD
3 Fitness magazines
Fresh Foods/Meal planning pad
Quest Bars
PB2
Justin's Peanut/Almond/Hazelnut Butters
Shot Bloks
Luna Bars
A Protein Shaker Bottle
Cute summer floppy hat
Beach Towel
Beach Towel clips
Box of Spark
Suntan oil/lotion
Beach mat with pillow
Insulated lunch tote
Link up HERE:
I encourage you to go through each post when you've got some time because I am SO SO proud of my ORB girls and I think the motivation they bring is amazing.
And not gonna lie, wish I was eligible for the prizes! It's got tons of fitness-related stuff with some fun summer things thrown in. If you don't have a blog, you can still participate by entering in here:
a Rafflecopter giveaway
Two winners will be chosen to receive a
Charly & Company
gift card or a
Body Love Apparel tank.
Three chances to win!
And because I am so overwhelmed with everything in life at the moment, you'll get my ORB "results" post over the weekend or on Monday. I may have crawled out of my hole but I mean don't expect a miracle!