This week has been nonstop madness, so here I am on Thursday, with my first post of the week. My first announcement is the winner of the Operation Red Bikini-Ruffles with Love tank.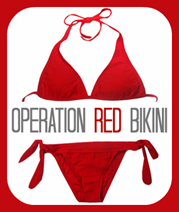 (Grab this button and slap it on your page, girl!)
We had over 500 people enter to win! And the winner is:
Melissa Folz.
Congrats Melissa! If I don't hear from her by tomorrow, a new winner will be chosen. For all those of you who have already ordered the tanks/will order, please email me photos of you in it. I'd love to include them in future ORB posts :) Stay tuned for more giveaways, and eventually some hints as to what's in the BIG prize pack. Leigh Ann and I have some GREAT ideas planned for it. Summer will be here before you know it, kiddos.
Next up, my link up with the beautifuls,
Sarah
and
Leigh Ann
. We're linking up next Wednesday to
coerce
bribe
force
politely ask our husbands/bff's/boyfriends/whatevers to answer a couple questions. Find those questions
here
. I am working on a vlog with the Mr. but we'll see what I get.
So what else has been going on with me? Just trying to walk like I'm not a duck that got hit by a semi truck. That's right. I am so sore I can't even walk right. Everything hurts from my neck down. I had my first trial session with our trainer at the gym and two days later I am in P-A-I-N. No pain no gain, though, right? I have another session with him Friday before I decide if I want to hire him for twice a week training. I know I don't push myself as hard as he did, but I'll really have to justify spending the money. I'll keep you all updated
because I know you are just on the edge of your seats.
I've also been doing things here and there for my Skinny Dinner Party this weekend! So far on the menu: Zea's Mediterrainianajaiajshhgfjg (who can spell that effin word) hummus, Skinny buffalo dip with pita bread and veggies, caprese, fruit salad, and shrimp cocktail. I plan to add two more skinny appetizers and another dessert.
Any ideas?
Any great recipes you want to share? Send me the link!
I've done alot of crafting last weekend and this week for the party and I hope it pays off and looks fabulous. The event planner in me went a little overboard. Imagine that. Can't wait to share pictures from the party! I have 9 girls coming and I hope they all have a good time. No pressure!